New Sagrado collection translates spirituality into jewels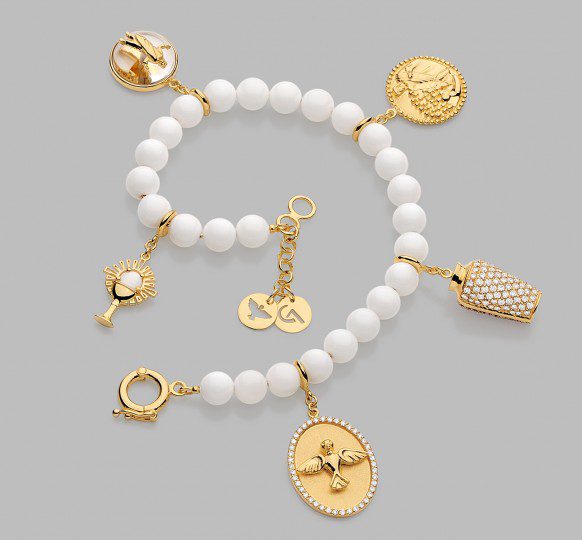 With great faith (and protection!), pearls, agates, diamonds, rubies and gold adorn these items
After the Rio de Janeiro charm, prevalent in the Sagrado jewel collection in 2013 – even transforming the silhouette of Christ the Redeemer into a fabulous pendent – now Carla Amorim has been inspired by spirituality. The result? A collection filled with biblical icons developed using precious stones and lots of gold, true points of light that have taken shape to discretely illuminate the most romantic looks.
The theme, common in the life of this jewelry designer, has driven her day to day and her work for years. It was from this experience that she chose some of the main biblical elements to turn into jewelry. Crosses, saints and angels were transformed into pendants, rings, chokers and bracelets, such as the Mistérios Luminosos, inspired by the five mysteries of the Rosary, and the collection's stars, two scapulars named Cruz Santiago, in women's and men's versions.
Materials used include pearls, rubies, white and champagne diamonds, colorless quartz, onyx and white agate, combined with white, black and pink gold. All to protect or surprise someone with an unforgettable gift filled with style and lots of faith, of course!
This season, the choker is called Sagradas Cruzes and it comes in two versions. In a different polish, yellow or pink, one of them is filled with rubies and the other, with diamonds.
For the more romantic that like a feminine look, the Cruz Fé pendant, done in polished gold and pearls, is perfect.
 For the more romantic that like a feminine look, the Cruz e Fé pendant, done in polished gold and pearls, is perfect.
The Mãe Rainha pendant is the type of item filled with inspiration. In matte and polished gold, pearls and pink or champagne diamonds, it is ideal as a gift for the person you most love.
For kids, an original present is also included in the collection. The Anjo da Guarda pendant, also done using gold balls with a seafoam texture and diamonds.
Full of meanings, there is no lack of reasons to have the Mistérios Luminosos bracelet. It has five pendants representing the fifth and last part of the Mysteries of the Rosary, that is, some of the most prevalent elements in Catholic meditation. White agate, colorless quartz, white diamonds, rubies and gold were chosen by the designer to create this piece of jewelry.
Onyx sets the tone for the men's scapular done in polished, white or black gold.
The women's version has a white agate as its precious stone, matched with polished yellow or pink gold.
The Sagrado 2014 collection is on sale now at all Carla Amorim stores throughout Brazil and at the online store.